About Dr. George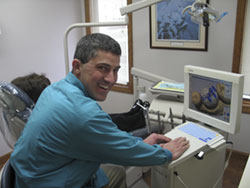 Dr. George was born and raised in Pittsfield, MA. He attended St. Anselm College in Manchester, NH. He then attended Georgetown University School of Dentistry, graduating in 1987. After graduation, Dr. George went into private practice, taking over his father's practice who retired after 40 years of service to the community. After one year in the original building Dr. George built a new state-of-the-art dental office across the street and has been there ever since.
Dr. George is committed to provide the best treatments possible for his patients. That is why he takes many more hours of continuing education classes each year than are required for state licensure. Dr. George is the only dentist licensed to perform Laser Periodontal Therapy (LPT)® in the area after graduating from The Institute for Advanced Laser Dentistry. Dr. George is also a graduate of the Great Lakes Education Center for Advanced CEREC Training and has studied extensively at the Dawson Center for Advanced Dental Studies in St. Petersburg, Florida.
When not in the office, Dr. George is kept busy with all the family matters that go along with having four children and a devoted wife. Dr. George also volunteers for various church and civic organizations and is involved with the newly instituted mobile dental clinic developed by the Massachusetts Dental Society in order to provide dental services to children in the area who may not have access any other way.
Dr. George is also a member in good standing with the American Dental Association, Massachusetts Dental Society, and the Berkshire District Dental Society.